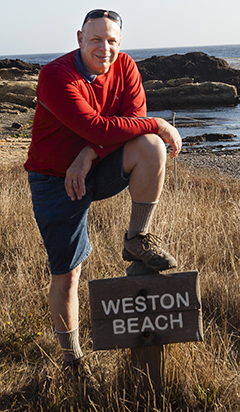 Exuberant and poignant, philosophical and passionate, Zave Smith's photographs capture the tangible pleasures and tactile experiences of life in close-up. Raised and trained in the Midwest, now working out of Philadelphia and New York, Zave has a special feeling for personality that suffuses his work. See it at www.zavesmith.com
1. What kind of kid were you?
A bit of a nerd.
2. What influences have shaped you?
What drive me are my dad's love of humanity and my mother's drive. Several of my earliest memories include: The Diego Rivera Mural at the Detroit Institute of Art. The song, "Susan" by Leonard Cohen. A film about taking a train to Jerusalem and Robert Frank's "The Americans".
3. Ever done anything really dumb?
Dumb? Me? Never? Except sleeping with my girlfriend in the middle of a minefield. It was her idea.
4. How'd you learn to do what you do?
Partly from college. Mostly by doing.
5. What are you working on now?
A new series of photographs on the theme of Joy and Fun. A long term project for Cigna, and today, putting together my next Workbook Ad.
6. Walk us through a typical day at work.
My life is divided by set days, travel days and office days. Office days mainly revolve around editing and set days are all about the shoot.
7. Who do you love?
My wonderful, beautiful wife of 32 years and our two great kids. My life, my work, and my friends.
8. What are you passionate about?
Creating photographs that evoke emotions and provoke the sprit. I love to make people laugh and smile both verbally and visually. I love humanity. We strive so hard for perfection while mostly we just walk around tripping on our shoelaces. But on occasion we create things that are sublime and amazing.
9. What are you proudest of?
My family is my biggest pride and joy. I have also done a small bit of good while being in this world and I have created a few images that have brought joy to a few people.
10. Describe a great night out.
Nothing is better for me than sharing a nice dinner and conversation with interesting people.
11. So what's next for you?
Every new day is a new surprise. I don't think that much in the long term. I believe in just doing the work from day to day, without much judgment and see where the work takes me.
12. What will your epitaph say?
Hopefully: He was a "Mensch" who kept people smiling.
Know somebody who should be featured on 12 Questions? Let us know!