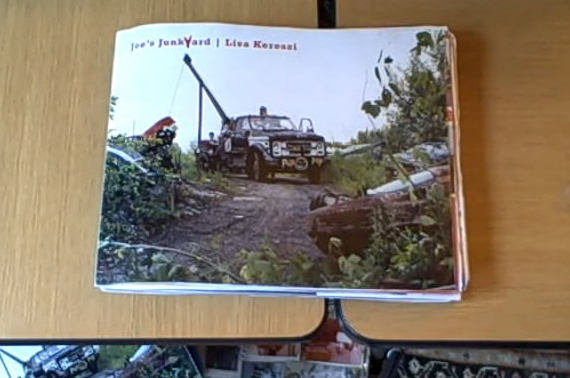 Philly-raised photographer Lisa Kereszi's new book, "Joe's Junk Yard," is "a personal narrative photo book, spanning more than fifty years and three generations, that explores one family's achievement and subsequent demise of the American Dream."
Read more about it at http://lisakereszi.com/publications/joes-junk-yard.
Kereszi is on the faculty of the Yale School of Art, and Acting Director of Undergraduate Studies in Photography. She has also taught at the International Center of Photography and School of Visual Arts and has been a visiting artist/critic at the Yale School of Architecture, NYU, Massachusetts College of Art, Parsons, School of Visual Arts, Vassar, UNC Chapel Hill, Eastern Tenn. State and for George Madison University. She has traveled to Central Asia to teach a group of artists through an exchange program through CEC Arts Link, and was an artist-in-residence at a program at Atlantic Center for the Arts in Summer 2005, at Lake Balaton in Hungary in 2006, and at Chashama North in 2007. Her work is in many private collections and in that of the Whitney Museum of American Art, the Altoids Curiously Strong Collection of the New Museum of Contemporary Art, the Brooklyn Museum of Art, the Ogden Museum of Southern Art, the Berkeley Art Museum and the Yale University Art Gallery. Find out more about her at http://lisakereszi.com/.