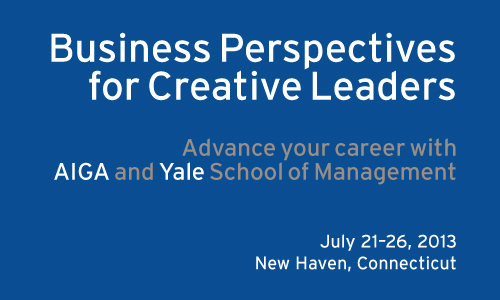 AIGA and the Yale School of Management have collaborated to present an educational program for leaders in the creative field. It takes place in New Haven, CT over six days in July 2013.
"Business Perspectives for Creative Leaders" uses case studies, lectures, guest speakers and study groups to give creative leaders a more complete understanding of business and design through the eyes of business executives (i.e., clients), giving participants a truly unique curriculum, tailored to their needs.
The program is taught by a team of Yale School of Management faculty who are regarded as among the world's most experienced business scholars and teachers. Participants stay in a local hotel and eat together on campus, offering both privacy and ready access to colleagues, as Yale's guiding principle is that executives learn best from one another in an atmosphere that stimulates teamwork and collaboration. "Studying Case Studies" by Yale School of Management provides an understanding of how to approach the case study method.
More info at http://www.aiga.org/business-perspectives-program/.
Thanks to our friends at AIGA Philly for putting this on.